If you only want to ride a bike from the oldest manufacturer still in existence, then you should look no further than the Oltre XR4 Campagnolo Super Record.
Under normal riding conditions - just riding along or doing a bit of tempo work - the XR4 is smooth; small vibrations are hushed by the comfort that Countervail brings to the ride. I also had plenty of opportunity to lash the bike, playfully charging town-line sprints on group gallops and tackling short, punchy hills. Frame stiffness is respectable, whether you're driving the bike around bends (there's little flex through the front triangle) or flogging it in a sprint.
The geometry and length put the rider in a good position for fast riding, without sacrificing balance and comfort. Head and seat angles fall just to the sedate side of aggressive and a long and low layout means you can hunker down and really drive it. In Australia, the Oltre XR4 is available only as a frameset (costing $7,299), allowing you to customise to your heart's content on your dream build.
The Oltre XR4 is a great example of what a modern aero bike can be: fast, smooth, good-looking. If you're still asking why this is the Bianchi to buy, here's your answer: A bike like this doesn't just happen. It was born of Bianchi's passion for pushing the design envelope and a relentless commitment to improvement. The Oltre XR4 is the best example of that mission in Bianchi's lineup.- Mike Yozell
NO, DUMMY, IT'S GOTTA BE STEEL!
Bianchi Pista. $1,099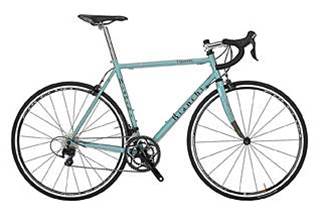 Okay, got it: You want a steel bike from one of the oldest builders. This strong-but-lightweight fixed-gear classic remains true to its track cycling heritage with a steeper seat angle, steeper head angle, shorter fork offset and higher bottom bracket.