Minimal look, sophisticated feel, thoughtful execution.
Italian brand Fizik, best known for their saddles, have been rapidly expanding their catalogue. While women's specific products are in the minority, the eye-catching Aria R3 road shoes are available in sizes 37 to 48, catering to the size range of most cyclists.
Five colour options are available depending on how much you want to stand out in the bunch. Three of these are mostly black, with highlights in fluoro yellow/fluoro pink (tested), fluoro yellow or red. Black with black or white with black require less coordination with brightly coloured riding kit.
Key features include a unidirectional carbon sole for excellent power transfer, replaceable heel pieces should you wear them out at the café or the traffic lights, a virtually seam-free inner construction to eliminate pressure points or hot spots, three ventilation areas in the sole, and BOA IP1-B dials – the fancy new ones that allow incremental adjustments or pop out to release the steel-coated nylon wires in one swift move. Riders wanting increased ventilation or more sophisticated arch support are better looking at the higher priced Infinito R1.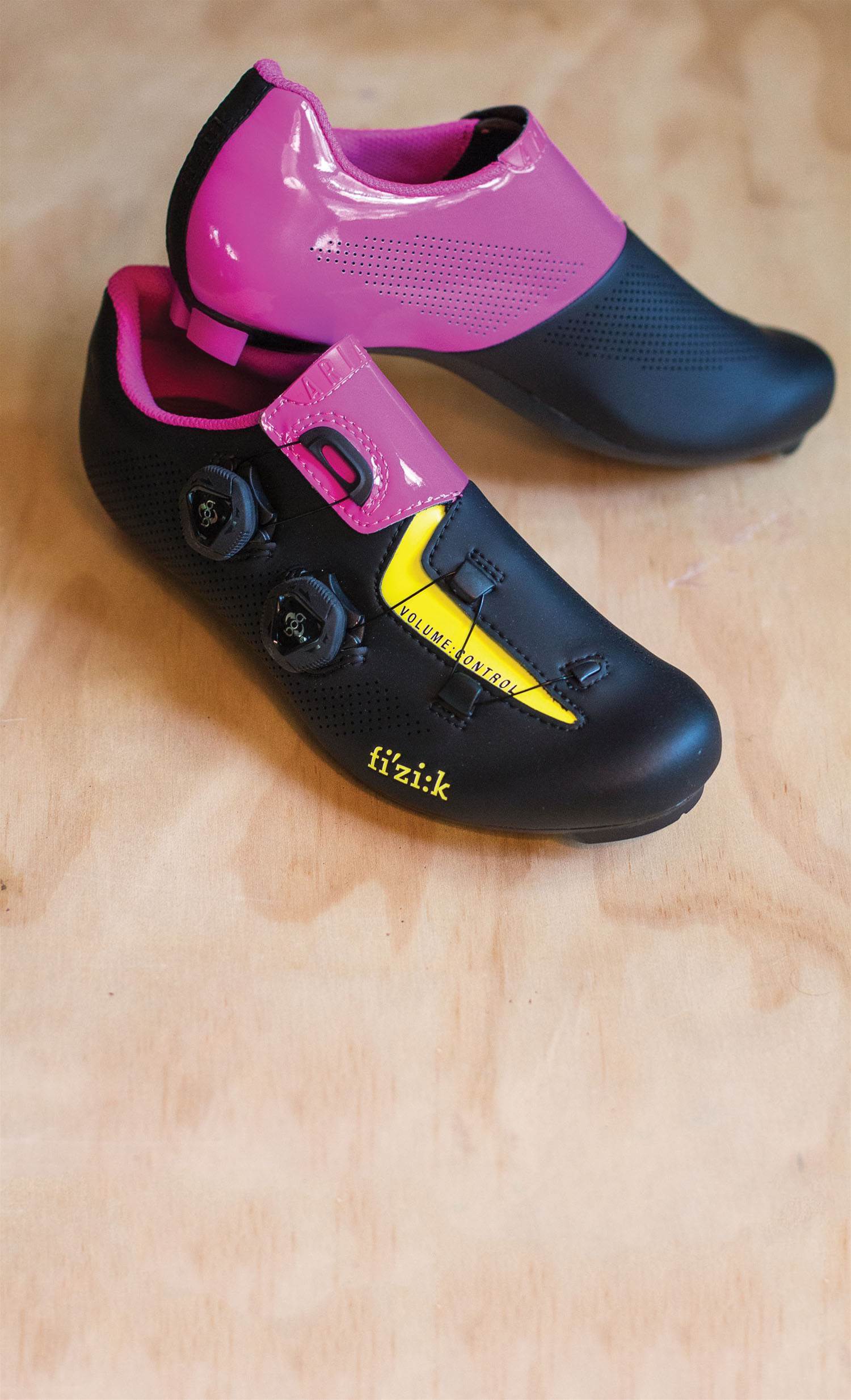 With a claimed weight of 243gms (size 42.5) the Aria R3s felt so light and fancy to hold that it almost seemed wrong to attach a set of cleats to them. Almost!
Out on the bike, the lightness, stiffness and supportive features of the design were instantly noticeable, making them the kind of shoe you want to wear for a while. The lightweight upper felt strong and secure, with the wrap-around fit adapting well to our unique foot shape. Combined with twin BOA closures to modify the internal volume more than other shoes, you really can get a secure and precise fit. The perforated design is well suited to a range of weather conditions as claimed.
If you're shopping online, be aware that the Fizik size guide is a little confusing. 'Foot length' refers to the length of the carbon sole (measured from the outside) rather than the riders' feet. This meant our test pair were two sizes too small for one tester, and a little on the big side for another. That said, we were particularly impressed with the volume control design of the uppers in combination with the dual BOA lace system, which allowed our smaller footed rider to dial them in nice and tight to virtually eliminate heel slip.
The Aria R3s are a high-performance shoe for the discerning cyclist. While minimal in appearance, they boast sophisticated features that, on the whole, are thoughtfully executed.
RRP: $430
From: fizik.com