Whether you're looking for a mini pump to stash in a pocket or a bombproof floor pump that can seat tubeless tyres, these are our picks for the best quality, value and plain old cool factor.
Every cyclist needs at least two bike pumps: a good floor pump for home or in the car to keep your tyres inflated consistently; and a mini-pump or CO2 inflator to get you home in the case of a mid-ride flat.
Choosing the best bike pump may seem like a simple task until you realise that there are hundreds of pumps with different features, options, and prices. Is a metal base and large air chamber really necessary? What makes the $120 floor pump better than the one that costs $20? And is it ever worth spending $200+ on something that just inflates your tyres? These are important questions.
So we've tried, tested, broken, and abused pump after pump. We've taken them to races, ridden through dirt and mud with them on our bikes, tossed them to friends, dropped them, and used them to save our butts (and other people's butts) on many a ride. Here is the round-up of what we consider to be the best bike pumps for cyclists.
Bontrager Turbo Charger
Bontrager's Turbo Charger floor pump is a basic, no frills pump that does exactly what it's supposed to, inflate tires. It is constructed out of steel and all of the internal workings are replaceable. The base is sturdy and the hose locks into the handle, keeping it in compact form when you're on the go. Costs: $90.
Specialized Air Tool Pro
Specialized has several pumps in its air tool pump line. We've used the air tool pro for years and have been impressed with the durability. The Air Tool Pro is made of aluminium making it lightweight. The base has traction for your foot and a reliable, easy to read gauge. There's an easy to use pressure release on the handle to assist in dialing in just the right pressure. Costs: Around $160
Lezyne Digital Road Drive
Lezyne's Digital Road Drive is a great handheld pump to stash in your jersey pocket. It's lightweight, compact, and has a digital gauge to help eliminate any guessing with pressures. It also features a flexible hose that makes it easy to get onto valves even at awkward angles and has a bleed valve to help get the air pressure just right. The seals are all replaceable and the pump is user serviceable. Costs: $123.50
Lezyne Alloy Digital Drive
Lezyne floor pumps have earned a reputation as some of the most durable around. They look great too. This Alloy Digital Drive floor pump has a CNC machined aluminium barrel and base, an easy to read and accurate digital gauge, and an extra long hose. This can be useful if your bike is in the repair stand. It has Lezyne's ABS1 Pro head that attaches to valves at a 90 degree angle. It also includes a presta valve core tool. Costs: $150
OneUp EDC Pump
The mountain biker's ultimate pump, OneUp Components' EDC (Every Day Carry) Pump is a hand pump with a CO2 head that also stores OneUp's multi-tool and/or a spare CO2 cartridge in the handle. It is made of lightweight aluminium and built to stand up to all sorts of weather and abuse. A large volume also allows for quicker inflation of large mountain bike tyres by moving more air with each pump. Costs: $78-85 (depending on cartridge size)
Genuine Innovations Air Chuck
There are a lot of different CO2 inflators on the market, but Genuine Innovations' Air Chuck is one of the best. It's lightweight (16g), reliable and simple to use. Genuine Innovations' "Push-to-inflate" technology means there's no risk of losing valuable air unless the chuck is on the valve. It also works with both presta and schrader valves. Costs: $46
Topeak Joe Blow
Topeak's Joe Blow is a great option for a floor pump that is reliable yet won't break the bank. It accommodates all types of valves and even includes adapters for sports balls/bladders. There is an easy-to-read gauge, and the hose stows neatly by the pump handle. When it's not in use, the handle locks in place making it easy to transport. Costs: $85
Blackburn Chamber Tubeless Floor Pump
Blackburn's Chamber tubeless floor pump is ideal for inflating tubeless tyres, with a separate chamber that can be charged with air. Pull on the handle and it releases a huge volume all at once, similar to an air compressor, to help the tyre seat correctly on the rim. The pump is built to last, works on any kind of bicycle valve, and has a air bleed button to fine tune pressures once the tyre is seated. The pump handle resembles a handlebar mounted to a standard 31.6 clamp, so you could even personalise it with a favourite bar in place of the stock one. Costs: $200
Blackburn Core Mini Pump
Blackburn's Core Mini Pump is an affordable, compact pump for road and mountain rides. It has a retractable and flexible hose that stows away when it's not in use and helps get to the valve if it's in an awkward position. The pump can go up to 120psi (enough for all road and mountain bikes) and includes a presta valve core remover that screws into the base of the handle for replacing tubeless tyre sealant. It can be mounted on a bike frame with the included frame mount or stashed in a jersey pocket. Costs: $50
Pedro's Prestige Floor Pump
The Pedro's Prestige floor pump is a basic, no-frills pump that does everything you may need and provides good value for the price. It is made of steel and plastic, and features an easy-to-read gauge. It also has a flip lever to lock onto the air valve, and can accommodate both presta and schrader type valves. It can inflate tyres up to 160psi. Costs: $85
Silca Tattico Mini-Pump
Silca is known for its attention to detail and aesthetically pleasing products that also perform well. The Tattico Mini is a great take a long hand pump. It's constructed of 6061 alloy, has a retractable hose, and has a host of features to make it as efficient as possible. There's even a hidden heat sink to keep the temperatures as low as possible even if you generate a lot of friction pumping. If you're a tyre-pressure perfectionist, there's also a Bluetooth-enabled version that syncs to your phone to show your exact PSI. Costs: $95
Silca Pista Floor Pump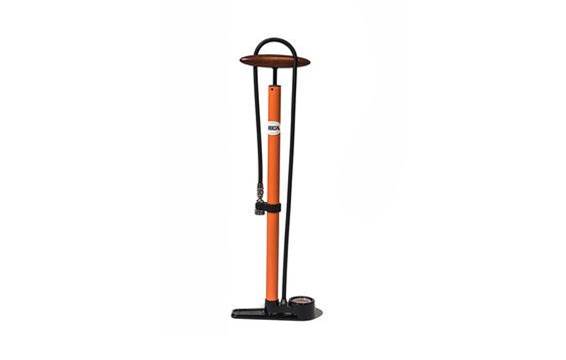 Silca's Pista floor pump is the gold-standard. Silca has been making pumps since 1917, and this special 100th anniversary Pista features Silca's signature quality with some modern upgrades. The plunger slides smoothly in the steel barrel on self-lubricating bushings. It has a brass check valve assembly, fits both presta and schrader valves with a long hose, and the company claims the gauge is accurate within +/-3%. It's also portable, with a base designed to lay flat and help save space. Costs: $210
Copyright © 2016 Rodale Inc.