Whether you're looking for a mini pump to stash in a pocket or a bombproof floor pump that can seat tubeless tyres, these are our picks for the best quality, value and plain old cool factor.
Blackburn Core Mini Pump
Blackburn's Core Mini Pump is an affordable, compact pump for road and mountain rides. It has a retractable and flexible hose that stows away when it's not in use and helps get to the valve if it's in an awkward position. The pump can go up to 120psi (enough for all road and mountain bikes) and includes a presta valve core remover that screws into the base of the handle for replacing tubeless tyre sealant. It can be mounted on a bike frame with the included frame mount or stashed in a jersey pocket. Costs: $50
Pedro's Prestige Floor Pump
The Pedro's Prestige floor pump is a basic, no-frills pump that does everything you may need and provides good value for the price. It is made of steel and plastic, and features an easy-to-read gauge. It also has a flip lever to lock onto the air valve, and can accommodate both presta and schrader type valves. It can inflate tyres up to 160psi. Costs: $85
Silca Tattico Mini-Pump
Silca is known for its attention to detail and aesthetically pleasing products that also perform well. The Tattico Mini is a great take a long hand pump. It's constructed of 6061 alloy, has a retractable hose, and has a host of features to make it as efficient as possible. There's even a hidden heat sink to keep the temperatures as low as possible even if you generate a lot of friction pumping. If you're a tyre-pressure perfectionist, there's also a Bluetooth-enabled version that syncs to your phone to show your exact PSI. Costs: $95
Silca Pista Floor Pump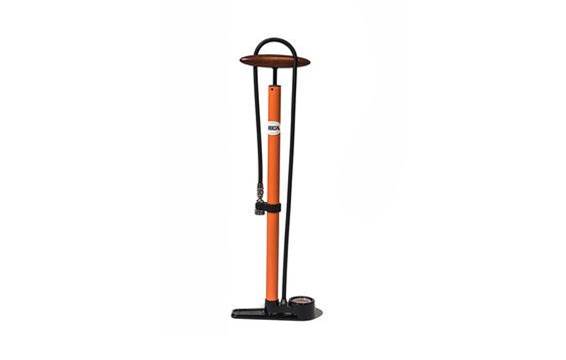 Silca's Pista floor pump is the gold-standard. Silca has been making pumps since 1917, and this special 100th anniversary Pista features Silca's signature quality with some modern upgrades. The plunger slides smoothly in the steel barrel on self-lubricating bushings. It has a brass check valve assembly, fits both presta and schrader valves with a long hose, and the company claims the gauge is accurate within +/-3%. It's also portable, with a base designed to lay flat and help save space. Costs: $210
Copyright © 2016 Rodale Inc.